About Metal Tronics Inc.
Metal Tronics Inc. is a leader in metal manufacturing. For over 40 years, we have been the "one stop shop" for metalworking projects. We pride ourselves on providing customers with end-to-end solutions. Our engineers and staff help with design, strategy, prototyping, fabrication, and testing. We do this to ensure that you always end up with a product that meets and exceeds your expectations.

Our facility has been modernized with state-of-the-art automation technology that, together with our expertise, helps us ensure the quality of our products and the speed of our work. Our dedication to sustainability also means that our manufacturing process minimizes waste and uses energy-efficient equipment.

Metal Tronics recognizes the global sustainability trend and has taken necessary steps toward going carbon-neutral. By introducing new laser machines that can cut thicker metals while consuming less power, we are proud to call ourselves a metal fabrication company that cares for the environment. Additionally, and unlike other metal fabrication companies, we take it one step further and reuse some of the packaging materials rather than throwing them away. Moreover, we have introduced a new manufacturing software that helped us digitize the production process and lower the use of paper, all to reduce the carbon footprint.

Metal Tronics has gone through some significant transformation over the last several years which translated into positive changes in the manufacturing process, for both our workers and our customers. Having introduced a certain level of automation, we have been able to speed up the manufacturing process significantly. This has allowed us to offer our clients better and more efficient metal fabrication services at competitive prices.

As one of the fastest growing companies in Toronto, we are determined to grow and expand our manufacturing facility, so we can provide more quality products and metal fabrication services to our clients.
Our services include:
Design / Consulting
Shearing
Drilling
Laser cutting
Fabrication
Self-clenching
Forming
CNC punching
Fasteners
Bending
Saw cutting
Tapping
Welding
Complete Assembly & Finishing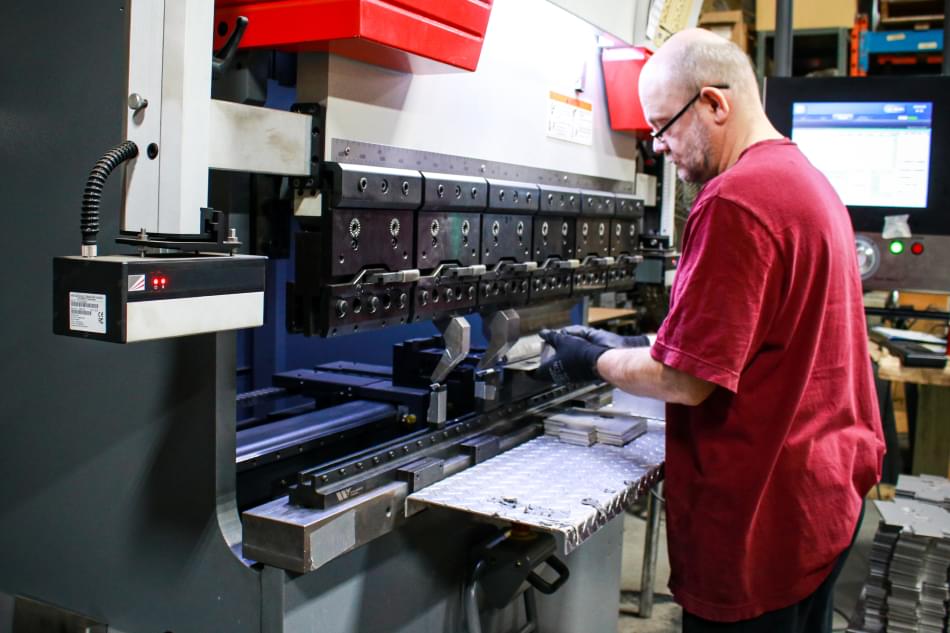 Metal Tronics Inc. is dedicated to precision and efficiency. We use our skills, experience, and state-of-the-art machinery to meet project specifications as closely as possible while minimizing waste and using recyclable materials.
Over the years, we've built a collection of advanced metalworking equipment. Our latest addition is a high-tech Mitsubishi Electric laser cutting system. This, along with other energy-efficient automated equipment, keep us at the forefront of the metal cutting business.
Your needs are unique. The project you have in mind may be complex and unlike any other you've encountered. At Metal Tronics, our goal is to meet these challenging situations head-on and create products that satisfy every requirement. Our versatile products are used in various industries today including the retail, entertainment, electronic, medical, and transportation industries. Browse through our gallery to see some of the projects that we have done in the past.
Our Facility
Our facility in Mississauga, Ontario has been modernized to include energy-efficient equipment, automated technologies, quality control systems and waste reduction processes.
View more >